"As a military veteran who served his country in multiple combat zones in Central America in the mid-1980s ... it is impossible to explain the trauma of war or what it is like to experience a human being's needless death...
"As a university professor, I often hear from young veterans who quietly approach me to talk about what they witnessed in combat. Their experiences in today's wars sometimes leave them feeling as ashamed and isolated as my cohort of soldiers felt in the 1980s. They need us to listen to them."
— Dr. Paul Ortiz, UF professor of history and director of the Samuel Proctor Oral History Program
This Memorial Day, SPOHP honors our fallen veterans by reflecting on their stories of sacrifice.
On this day, we'd like to highlight some of the incredible stories from the diverse collection of veteran interviews from our archive.
We'd also like to promote a few of the veteran-focused projects and events scheduled for this year.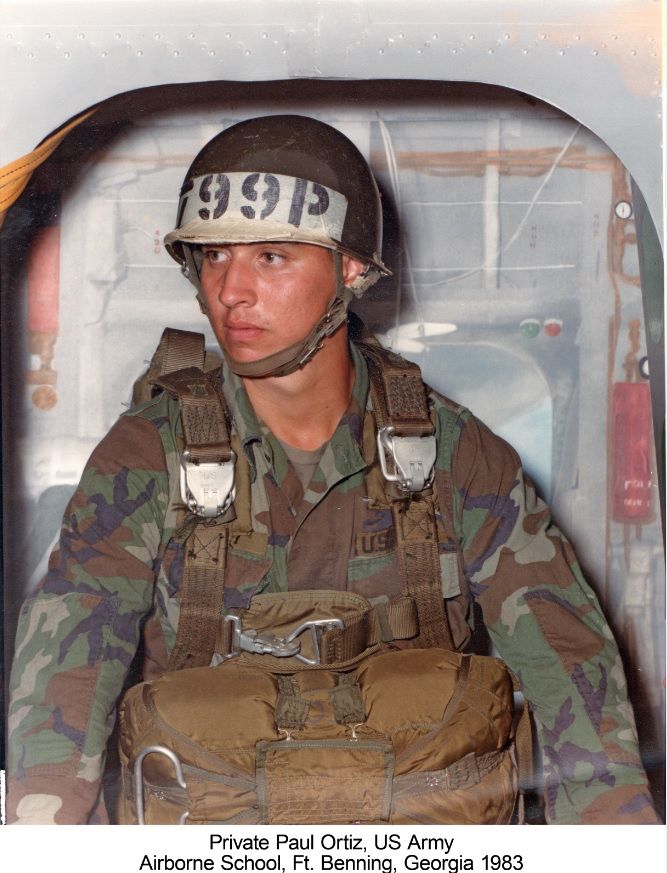 director's welcome
Greetings from the Samuel Proctor Oral History Program! On the eve of Memorial Day we take this opportunity to thank our military veterans as well as to pause to consider the cost of war on families, communities, and nations. Samuel Proctor was a World War II veteran, and I served in the 82nd Airborne Division and 7th Special Forces in Latin America during the 1980s. The Proctor Program has always had a special tie to military veterans, their families as well as to communities that have suffered war, genocide, and political violence.
At the Samuel Proctor Oral History Program we strive to amplify voices of survivors of conflicts both well known as well as those hidden from the history books. Our students, staff, and volunteers have conducted over three hundred oral histories of World War II veterans in cooperation with the Library of Congress's Veterans History Project where copies of all of our oral histories with veterans are deposited. Nothing gives me more joy than to watch a 19-year-old student interview an elder in their late 80's talking about the harrowing experiences of the WWII Battle of the Bulge, the Battle of Chosin Reservoir in Korea or the Battle of Alpha North in Vietnam. These interviews are more valuable than any Hollywood depiction of war, and our students come away with a remarkably enhanced understanding of the deepest tragedies as well as triumphs of the human spirit.
I hope that you will join me in listening to and supporting our students' work with veterans during this Memorial Day weekend.
Thank You!
Paul Ortiz, Director
To Listen is to Remember
SPOHP Collaborated with the Telling Project to Bring Veteran Oral History Narratives to Life
In this production, four veterans and a military wife living in Gainesville come together to tell their life stories, openly discussing what it means to have served their country and to now live as veterans in the USA. This production included firsthand accounts of a soldier's life in Vietnam, Iraq, and Afghanistan, and in-depth insights into the difficulties of returning home. Directed by Jeffrey Pufahl of UF's Center for Arts in Medicine and 2017-2018 visiting scholar at SPOHP, Telling: Gainesville builds a bridge between civilians and veterans by creating a space for discussion, reflection, and understanding.
Combining oral history and "verbatim theatre," which focuses on a more journalistic, documentary-style of storytelling, the performance explores the various reasons why these men enlisted, and follows them through basic training, their first deployment, and, of course, their experiences upon arriving home. It was challenging to find veterans willing to openly discuss this material, especially in such a public and performative way.
The Telling Project is a nationwide initiative that has put over 180 soldiers and their families on stage, giving audiences the opportunity to listen to their stories in a unique and engaging format.The Telling Project came to Gainesville thanks to grants from the Florida Humanities Council, and the National Endowment for the Humanities.
The full performance is now available on YouTube.
Remembering frank towers
The Samuel Proctor Oral History Program had the privilege of getting to know Frank Towers as one of our narrators for the Veterans History Project. Over the years, we came to know him as a leader for his fellow veterans, especially tose who served in WWII. We always had a deep respect for his heroism in WWII, and we came to regard him as a valuable friend to the program. We have three interviews housed in the SPOHP archives from Frank Towers, and have filmed him in the community speaking at events. Mr. Towers is represented permanently through the SPOHP archives through three interviews and several recordings of him speaking at public events.
In this interview, World War II veteran Frank Towers describes his service in Europe, concentrating on the liberation of 2500 Jews destined for death near Magdeburg, Germany. He outlines his path to their liberation on a map in this very compelling story.
Watch the full interview on YouTube.
The following 25-minute video is an oral history tribute to Frank Towers using segments of the two interviews that were filmed. To Frank we say this: we know we join countless others whose lives you have touched, as well as lives you have literally saved, to say you will be sorely missed.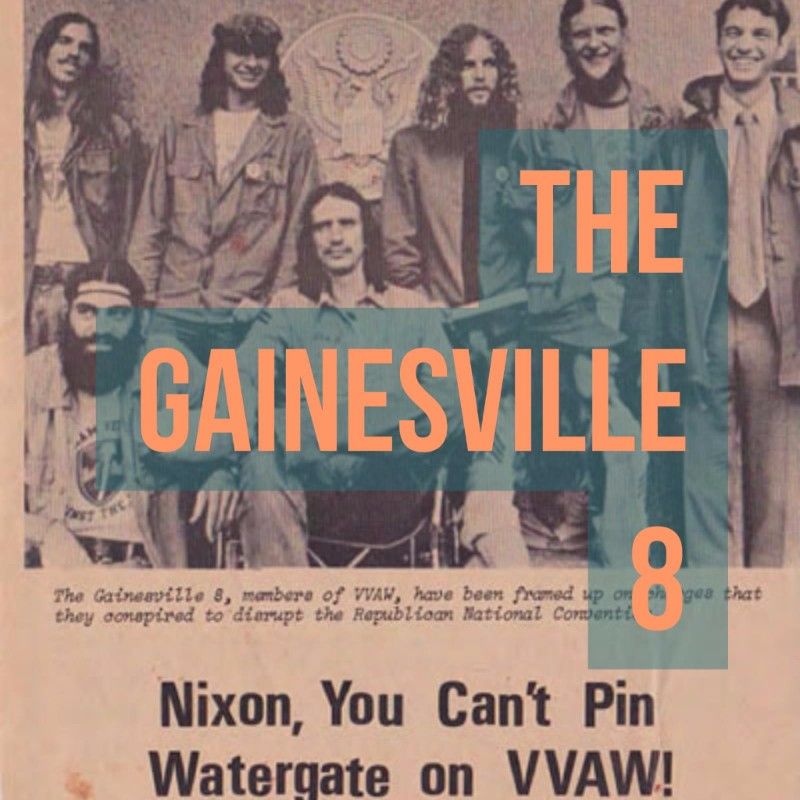 The SPOHP Podcast Launched The Gainesville 8 Series
SPOHP volunteer John Paul Lorie has assembled a three-part special feature on the Gainesville Eight. Members of the Vietnam Veterans Against the War, the Gainesville Eight were indicted on charges of conspiracy to disrupt the 1972 Republican National Convention in Miami Beach.
African-American Veterans of Monticello, FL
In March of this year, SPOHP took a trip to Monticello, FL to interview African-American World War II and Vietnam War veterans as well as a lifelong resident who founded the Concerned United People organization to combat racial inequalities in Jefferson County. We also met with County Commissioner John Nelson to discuss local efforts to combat the state initiative to convert the county public school system to a charter school system.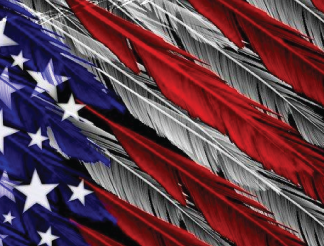 Message From SPOHP Associate Director Dr. Ryan Morini
On this Memorial Day, and all those thereafter, please keep this country's Native American and Indigenous veterans in your thoughts and prayers. Though most Americans may be unaware of it, Native people serve in the military in higher numbers per capita than any other ethnic group. In fact, the U.S. Department of War noted that during World War II, if the entire population of the country had enlisted at the same rate that Native men did, the Selective Service draft would have been unnecessary. Many Native people served even in the years prior to 1924, when they were not recognized as American citizens.
For the sources of the above and further information on Native Veterans, please visit:
In my time in Western Shoshone communities in Nevada, I have come increasingly to appreciate the honor and reverence the people hold for those who have served, as well as the ongoing legacy of the cost of that service. As an oral historian, it has been my privilege and honor to record not only the recollections of veterans still living today, but some of the stories of those who were lost to war, so that future generations can continue to remember them through the words and voices of those who knew them. May we never forget.
Aishen tsaa,
Ryan Morini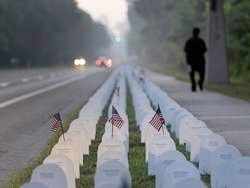 Veterans Projects and Events Ahead
The Memorial Mile
Gainesville Veterans for Peace will display tombstones from May 27 through Memorial Day, May 28, to remember those who have died in the wars in Afghanistan since 2001 and in Iraq since 2003.
Memorial Mile will line the street along Eighth Avenue just east of 34th Street Gainesville, where the Solar System Walk is located. This is the ninth year VFP has set up the display, and in 2008 VFP had to cross over to the North side of Eighth Avenue due to the continuing number of deaths in Iraq and Afghanistan.
Veterans for Peace will have available, on site at an information table, a book that directs visitors to specific tombstones. Every year, people come to the Memorial Mile to place flowers and other expressions of love at the tombstones of their loved ones and friends.
The following video highlights reactions to the 2015 Memorial Mile.
For more information, visit the Gainesville Veterans for Peace website.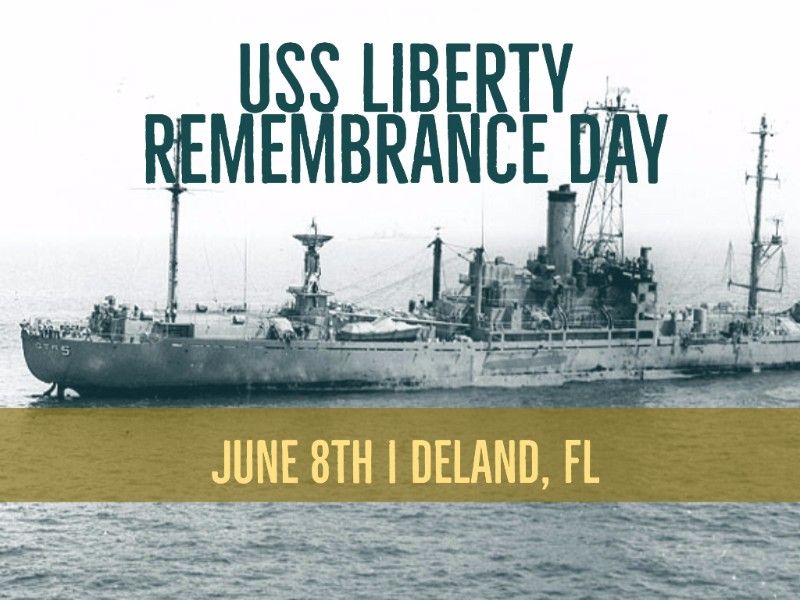 50TH ANNIVERSARY OF THE ATTACK ON THE USS LIBERTY
On June 8th, 1967, Israeli warplanes and torpedo boats launched a ferocious two-hour attack on and attempted to sink the USS Liberty as she sailed under a U.S. Flag in International waters. Of the 294 men aboard the vessel, 34 were killed and 174 were wounded by a well-coordinated, multi-wave assault that included the use of napalm. Rescue aircraft had been launched but were recalled in mid-flight by direct orders from President Lyndon B. Johnson, but why? The October 2003 Independent Commission of Inquiry found that "Israel committed acts of murder against American servicemen and an act of war against the United States."
Why after 50 years are the USS Liberty survivors still seeking justice?
What: USS Liberty Remembrance Day Petition Drive (Volunteers Needed)
When: Thursday, June 8th, 2017 from 12 Noon to 4:00 PM
Where: Volusia County Administration Center, 123 W. Indiana Ave, DeLand
Who: Proudly presented by the Dr. Bob Bowman Memorial Chapter of WeAreChange.org (We Are Change Central Florida)
Contact: Phil Restino of We Are Change Central Florida
Cell: (386) 235-3268; email: WeAreChangeCFL@gmail.com
Have a safe and reflective Memorial Day.
Support SPOHP